Do you dread when your menstrual period comes each month? Do you have PMS? Are your emotions jumping all over the place before your menses? Are you so irritable that you drive away the people you most care about? Would you like to get relief without hormones or other drugs?

Homeopathy can help. The right homeopathic remedy will help bring your hormones under control. As you get stronger and healthier these hormonal problems will reduce and eventually disappear, With our clients we have seen many people who formerly suffered from PMS enjoy good health all month long. Here is an example of one person who was helped.

Ellen was 38. She complained of PMS- pre menstrual syndrome. She was totally stressed out. She felt out of control. It was all month but was much worse the week before her menses. She felt impatient, frustrated, anxious. I yell and scream at the kids. I over-react. I feel

Palladium

like I will burst. This got much worse after the birth of my second child.

She feels put upon by her kids- always doing so much for them. I want things to go by my schedule and when it doesn't work out it stresses me.

She also had sleep problems both falling asleep and staying asleep. Her menses were very profuse, excessive bleeding.

Based upon these symptoms and many more we choose the homeopathic remedy Sac-alb and gave it once (note this was the right remedy for her but the possibility of it being the right remedy for another person suffering from PMS is low).

One month later she reported:

I feel so much better. My periods are so much better. My PMS – the symptoms are gone. I was shocked when my period started- there was no PMS. It's wonderful. My menses are soaking me much less- much less blood. I am sleeping- I didn't before. I am much more patient now. I am not wound up and anxious. I am more in control and able to handle the kids. I have much more energy. I really feel I am doing better.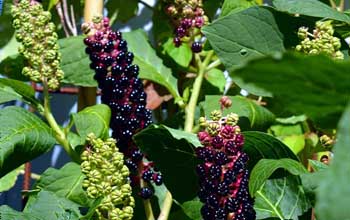 Now two years later she is still doing well.

In this example you see the difference between homeopathy and other approaches for treatment of PMS.

Phytolacca

After the right remedy we expect to see everything getting better in the person's life.

To understand how homeopathy helps in cases like this please click below, to read more about homeopathy. To find a homeopath to help you, choose the referral list link below. If no experienced classical homeopath is in your area you can either travel to see us in Florida - or we can do a phone consult.

For More Information or to make an appointment contact:

Steve Waldstein RSHom (NA) CCH PCH
Classical Homeopathy, Inc.
1245 NW 22nd Avenue
Delray Beach, FL 33445
Telephone: 561-562-8965
E-mail: steve@homeopathy-cures.com